The best overall betting site for gamblers in Canada is Betwayy
In our opinion, Betway is the best gambling site and sportsbook in Canada. It offers simple deposits and withdrawals through payment methods like Visa and Mastercard, and has a great reputation among Canadian sports bettors.
Not only that, but it has generous deposit bonuses, with a 100% match up to $250 for new gamblers, as well as a streamlined user interface that's easy to use on both desktop and mobile devices, and fantastic security and customer service. It also has a lot of tennis gambling markets – in addition to offering sports betting on leagues like the NHL, NBA, NFL, and MLB, as well as the English Premier League and other international sports. You'll find more than 12,000 betting markets, in total. More than 12,000 betting markets available
Wide variety of casino games
Audited & licensed by eCOGRA
---
The best betting sites for tennis in Canada
Looking for other options for betting on tennis in Canada? While Betway is our top choice, here are some other great options for Canadian sports bettors, such as:
LeoVegas
LeoVegas is a Swedish company that got started by creating a mobile casino, and expanded into sportsbooks in May of 2016. It has some of the best mobile support of any online sportsbook, so it's a great option if you prefer to place bets on the go. The company is highly reputable, and has won dozens of prizes for excellence in the industry of online casinos and sportsbooks.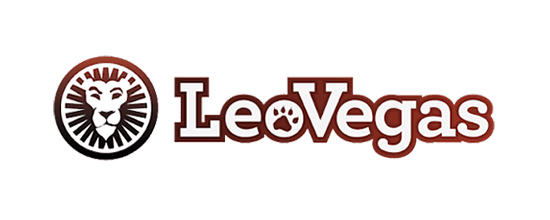 Great promotions & bonuses
Has won 15 more industry awards in the past decade
Simple, streamlined online & mobile interface
Intertops
Intertops is the oldest online sportsbook that's still around today, and got its start in 1996. It has a reputation for excellence, and they have great welcome bonuses and periodic promotions for current users. It's also one of the fastest gambling platforms when it comes to paying winnings to customers. However, it currently does not have live betting options, because the company began overhauling its live betting system in May of 2019.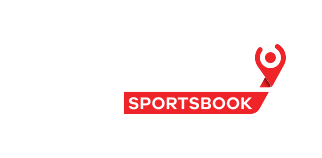 Excellent sign-up bonuses for new users
Great reputation, has operated since 1996
Sportsbook has overnight lines by 10 PM ET
Bet365
Bet365 has more than 45 million users worldwide, and while it's well-known for soccer betting, it also offers plenty of tennis betting markets, as well as unique bonuses like accumulator betting bonuses on tennis matches. It has a great user interface, and supports top deposit methods like InstaDebit and Paysafe, with easy and fast withdrawals of your winnings.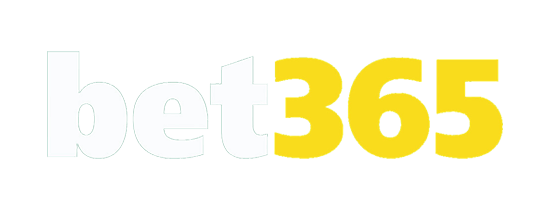 More than 20 million users worldwide
Excellent interface on desktop & mobile
Highly competitive odds for all events
---
How we rate the best tennis betting sites
Wondering how we've ranked the above tennis betting sites, and how we choose our preferred betting platforms? Here are the factors we take into consideration.
Range of sports, markets, and bet types – We want you to have as many betting markets and bet types available for tennis as possible, as well as betting opportunities in soccer, American football, hockey, baseball, golf, and much more.
Bonuses & promotions – Why sign up for a new betting platform if you can't benefit? We choose platforms that offer promotions like deposit and bet matching, free bets, and other benefits for new players.
Ease of banking & payouts – Winning a bet doesn't matter if you can't get your cash from your betting platform, so we choose reputable companies that offer easy banking with fast deposits and payments using common Canadian payment methods like Interac, Visa, Mastercard and more.
Safety, security & customer support – Your safety and security are paramount, so we always look for gambling operators that encrypt your data, do not share your information, and use modern technology to prevent hacks and data loss. We also prioritize sites with responsive, helpful customer service.
Mobile support – We always want you to be able to place bets wherever you are, so we prefer to pick platforms that offer great mobile web support, and also have dedicated iOS and Android applications for Canadian gamblers.
---
Which tennis tournaments are good to bet on?
There are a huge number of tennis tournaments to bet on in Canada. If you're just starting out, it's probably best to bet on the Grand Slam tournaments, such as Wimbledon, the US Open, and the French Open. However, there are dozens of smaller tournaments throughout the year that are also great opportunities for gamblers, as well as periodic special tournaments like the Summer Olympic Games, held every four years.
---
Which tournaments are the most important in tennis betting?
Wondering where you should start with tennis betting? Here are the most important tournaments in tennis.
Wimbledon
Held in England at the All England Club in July, this is the oldest tennis tournament in the world, and arguably the most prestigious. This tournament is part of the Grand Slam series, and is played on a grass court. It has a total prize of more than £31,600,000.
US Open
The US Open has been running since 1881. This hard-court tournament is held in late August and early September, and is part of the Grand Slam series, and is the final Grand Slam tournament of the year. The prize money available is typically over $53 million USD.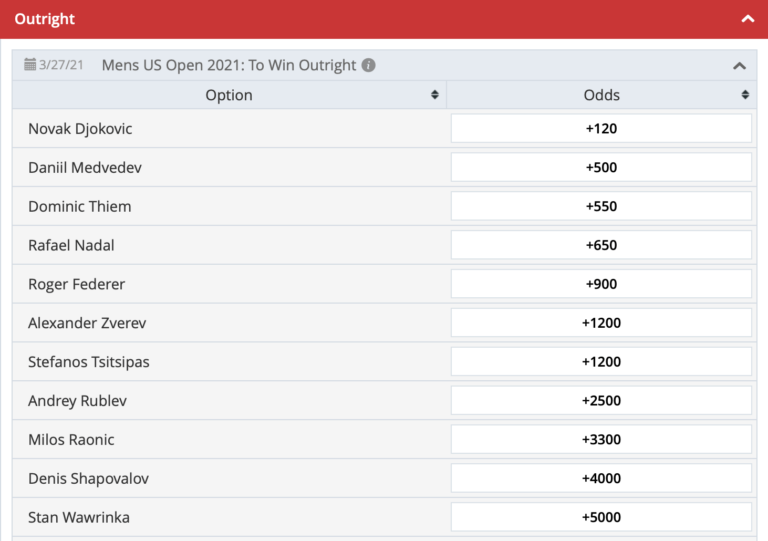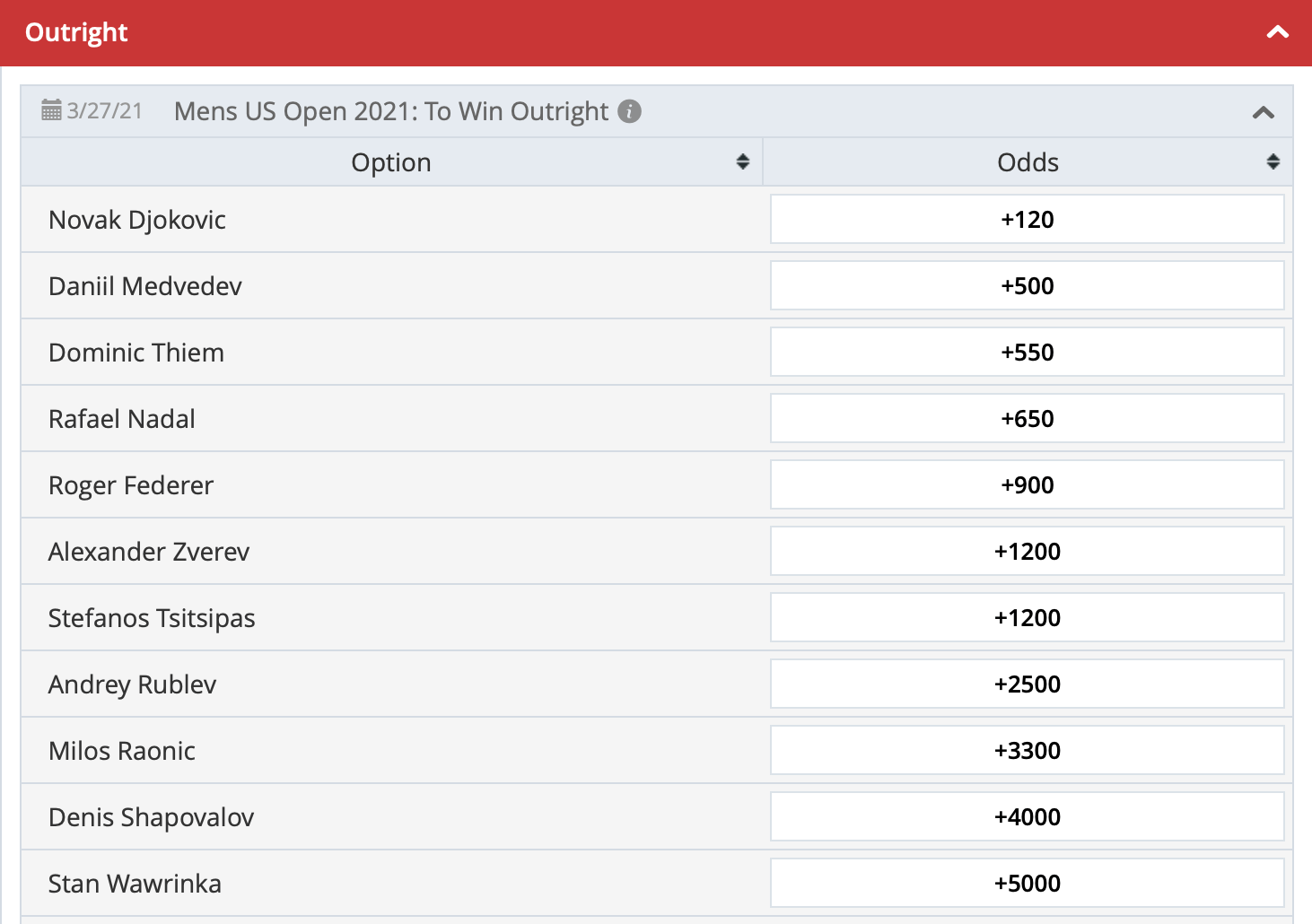 Australian Open
The Australian Open is the first Grand Slam tournament of the year and is typically held in late January in Melbourne, Australia. This hardcourt tennis tournament typically has the highest attendance of any Grand Slam event, usually exceeding 800,000. Prize money exceeds $71,000,000 AUD.
French Open
The French Open is the only Grand Slam tournament held on a clay surface. It typically begins in late May each year, and is known for being the most athletically-demanding tennis tournament in the world, since the clay surface slows down the pace of play, extending volleys and making it harder to ace opponents. The total prize pool is over €39,197,000.
---
Which markets are usually available for gamblers when betting online?
There are a lot of different tennis markets that gamblers can choose from. A few of the most popular include:
Outright betting (picking the winner of a tournament)
Match betting for the winner or loser
Over/under betting on number of games or sets played
Betting on margin of victory for the winner
Set winner betting (common for in-play betting)
Double-result betting, which combines two of the above bet types
Beyond these, it's common to find special and prop bets on matches, such as the number of failed serves and double-faults, failed returns, and other such bets.
---
The odds in tennis
Tennis odds are typically quite competitive across different gambling platforms, but they're not always the same, so it's a good idea to compare the odds available for each match on different platforms. This is a great way to find value when betting.
Tennis offers a wide variety of betting options, including short-term, long-term, and in-play betting, with odds that can vary quite a bit on a match-by-match basis. Let's take a deeper look at the tennis odds below.
Odds ranges in tennis
The biggest odds ranges in tennis occur when a heavy favorite is facing a major underdog. The 2019 US Open Final, for example, had Moneyline odds of -550 for Rafael Nadal, the favorite, and odds of +400 for Daniil Medvedev, who was the underdog.
In a more balanced match, it's more common to find the favorite at -110 to -130, with similar odds for the underdog. Depending on your tolerance for risk, you can choose to bet on even matches, or wager more on heavy favorite or underdogs.
---
What can gamblers bet on when it comes to tennis?
Tennis betting markets usually support standard types of bets like 1X2 betting, which combines two odds outcomes, system bets which are made up of a combination of bets, and accumulator bets. Maximum combined odds & limitations and maximum betting limits typically vary depending on your chosen betting platform.
Short-term betting in tennis
Short-term betting in tennis usually involves predicting the winner of a single, or other related outcomes. It's also common to bet on things like the total number of sets in a match, or even betting on the margin of victory by which a particular player will win.
Short-term betting is very popular in tennis because upsets are relatively common, and there are lots of opportunities for gamblers to find value when placing their bets.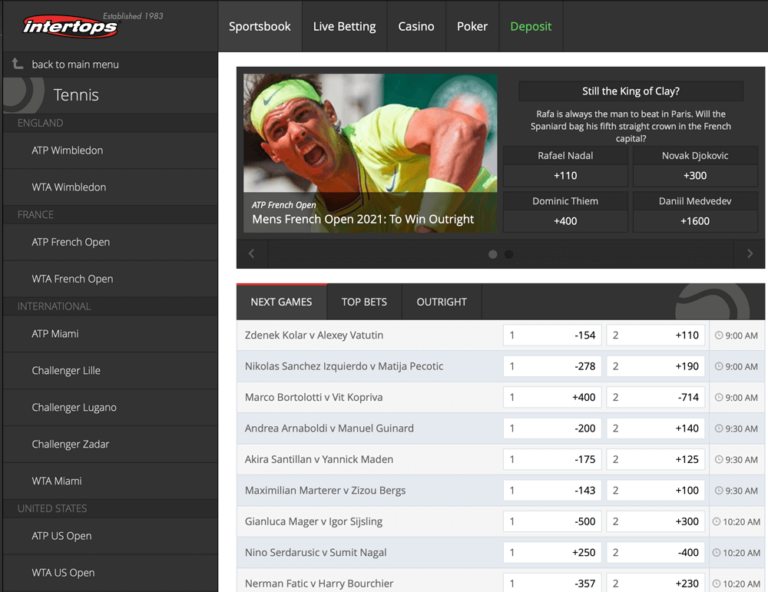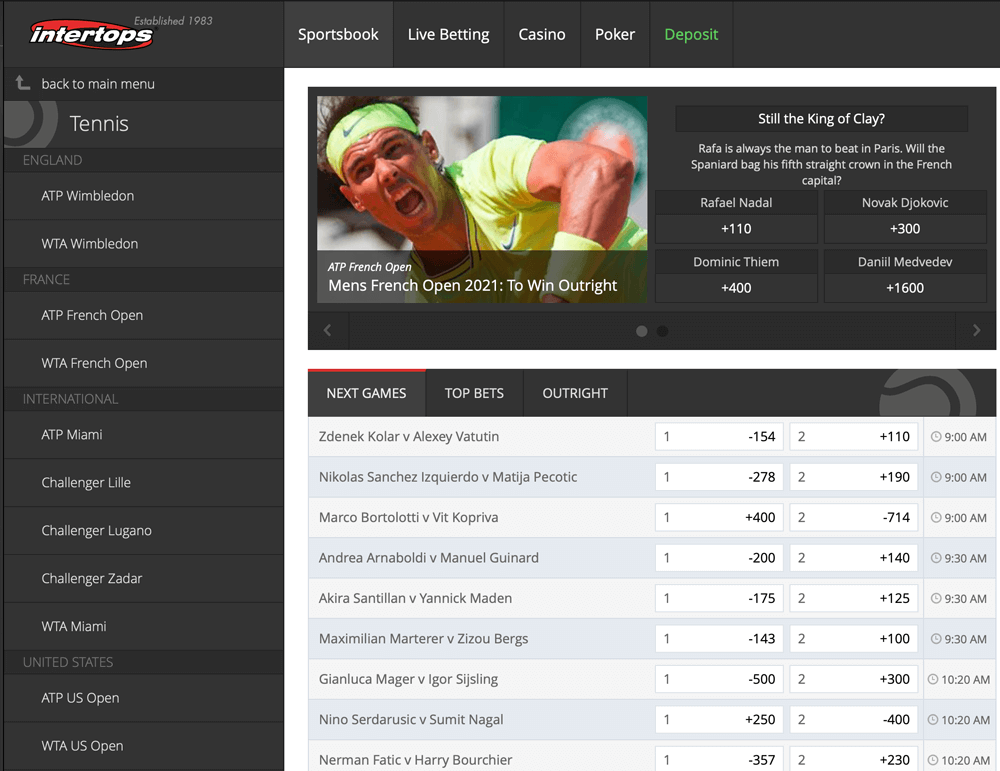 Long-term betting in tennis
Long-term betting on tennis usually involves betting on the overall winner of a popular tournament, like Wimbledon. Bettors can even bet on certain players to win multiple tournaments, or a specific number of games during the tournament.
It's very common for gamblers in Canada to place tennis bets on long-term outcomes but also gamble on individual games and players. Doing so will provide you with a wider variety of bets, which can help you maximize profits and minimize losses.
Live betting/in-play betting in tennis
Tennis has quite a few live and in-play betting opportunities. Bettors can gamble on the winner of individual sets, predict which player will win the next two points, or even sometimes bet on missed serves or mistakes when returning serves. The number of options depends on the betting service you use, and the betting markets that it supports.
---
Is tennis a good sport to bet on?
Tennis is already a very exciting sport, with a very high level of competition – and since there are lots of in-depth stats to look at when placing your bets, it's a great choice for bettors who like making informed betting decisions. It's a great sport to bet on, whether you've followed tennis for years, or you're a new fan.
Is there any opportunity to make a good profit within tennis?
Definitely. There are always opportunities for upsets in tennis, and even relatively evenly-matched games provide plenty of opportunities for seasoned gamblers, particularly if you make prop bets and in-play bets.
How do I best get started by betting in tennis?
It's best to start by following a few key top players and looking at their performance in different tournaments throughout the year. You may also find it helpful to read tennis blogs and gambling blogs to learn more about the current tennis landscape, favorites and underdogs, and betting strategies for tennis.
Is tennis a safe and fair market to bet on?
Yes. Tennis is a very popular betting market, and it's easy to find competitive odds. In addition, due to the nature of the sport, corruption such as match-fixing is very rare, since it would be easy to detect.
---
The stars in tennis
Wondering whose matches you may be betting on when you start gambling on tennis matches? Let's take a look at a few of the top stars in tennis, across both men's and women's tennis.
Roger Federer
The Swiss Roger Federer is usually mentioned as one of the greatest tennis players of all time, along with his contemporaries Rafael Nadal and Novak Djokovic. He's currently ranked #4 in the ATP rankings. He's won 8 Wimbledon titles, six Australian Opens, five consecutive US Opens, and one French Open title, and set a record for being ranked consistently in the ATP Top 10 from October 2002 to November 2016. Though he's now in his late 30s, he is still considered one of the best players in the game.
Rafael Nadal
Rafael Nadal has won 19 total Grand Slam titles, consisting of twelve French Opens, four US Opens, two Wimbledon titles, and one Australian Open title. He's widely renowned as the best clay tennis player in the world, but is versatile enough to play on any surface. At just 33, he's sure to dominate in years to come and is currently ranked at #2 in the ATP singles rankings.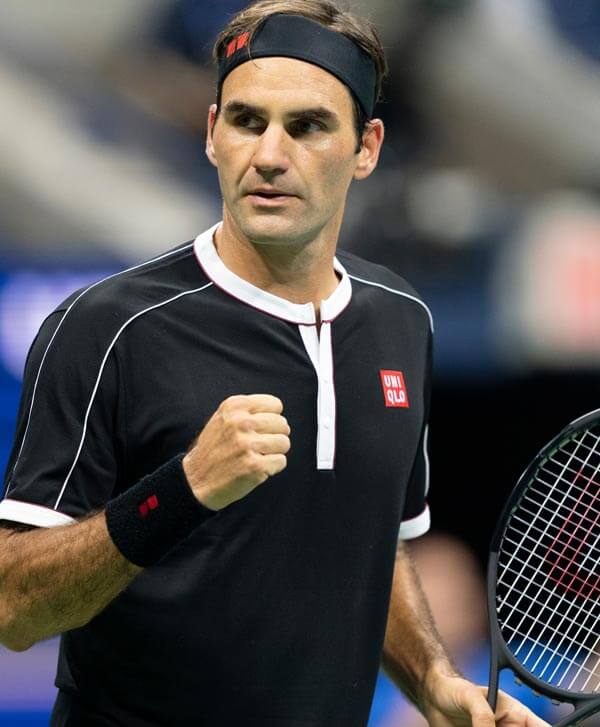 Serena Williams
Serena Williams has the most combined Grand Slam titles in singles, doubles, and mixed doubles of any currently-active player, and is considered to be the greatest female tennis player of all time. The American is unbeaten in Doubles Grand Slam Finals with her sister, Venus, and recently narrowly lost the 2018 US Open Final to up-and-coming contender Naomi Osaka in a dramatic series.
Naomi Osaka
Japanese Naomi Osaka rose to prominence in 2018, when she defeated Serena Williams in a dramatic US Open final, the first that Williams had participated in since giving birth to her child. In 2019, Osaka won the Pan Pacific Open and the China Open, and was ranked as the #3 top player in the world. At just 22 years old, Osaka is sure to continue improving and growing as a player as she gains more experience.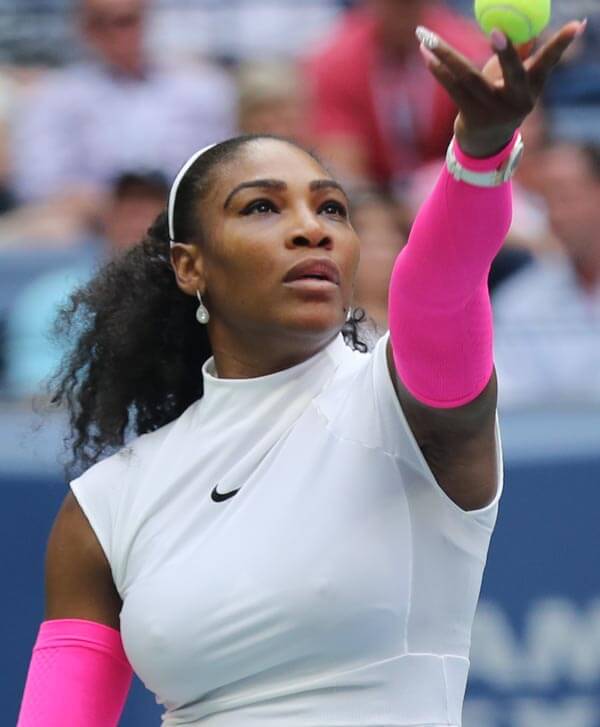 ---
The best countries for tennis
Curious to find out which countries produce the best tennis players in the world? Let's take a look at a few countries that have the most players on the Men's and Women's Top 100 tennis rankings.
Spain
Spain is one of the biggest powerhouses in men's tennis and has created superstars like David Ferrer, Rafael Nadal, Nicolas Almagro, Albert Ramos, and more. However, it's not quite as strong in women's tennis. Rising female stars like Garbiñe Muguruza and Carla Suárez Navarro are talented but have not yet reached the top tier of tennis play.
Russia
Russia currently has quite a few players on the ATP top 100, including newcomer Daniil Medvedev, who barely lost to Rafael Nadal during a dramatic 2019 US Open Final, as well as Andrey Rublev and Karen Khachanov.
For women, Russia is equally strong. In the past, women like Anna Kournikova and Maria Sharapova dominated top tournaments, and there are currently 4 Russian –  Ekaterina Alexandrova, Anastasia Pavlyuchenkova, Svetlana Kuznetsova, and Veronika Kudermetova – in the WTA Singles Top 50.
France
France is another major powerhouse in both men's and women's tennis. Current top men include Gael Monfils, Benoit Paire, Adrian Mannarino, and Nicolas Mahut, to name just a few. In women's tennis, top stars include Kristina Mladenovic, Caroline Garcia, Fiona Ferro, and Alize Cornet, who are all ranked in the WTA Singles Top 100.
Serbia
Serbia is the home country of another one of the greatest tennis players currently still playing; Novak Djokovich, who is currently #1 in the ATP Rankings. Other top men's tennis players include Dusan Lajovic, Filip Krajinovic, and Miomir Kecmanovic, who are all within the ATP Top 50.
However, while Serbia has had top female tennis players in the past, like Ana Ivanovic and Jelena Jankovic, it currently has only one female tennis player in the WTA top 100, in Nina Stojanovic.
---
Enjoy The Fun, Intensity, And Rush Of Betting On Tennis Matches
Tennis is one of the most fun spectator sports to watch, thanks to the unique match structure, and the extreme athleticism and high skill levels of top players. If you're a tennis fan and want to take things to the next level, betting on tennis matches is a fun way to keep track of major upcoming matches, learn more about top players, and enjoy your favorite sport even more.
So don't wait – take a look at the betting platforms we recommended above, sign up, and start placing bets on top matches right away.