The best betting site for Apple Pay in Canada is Bet365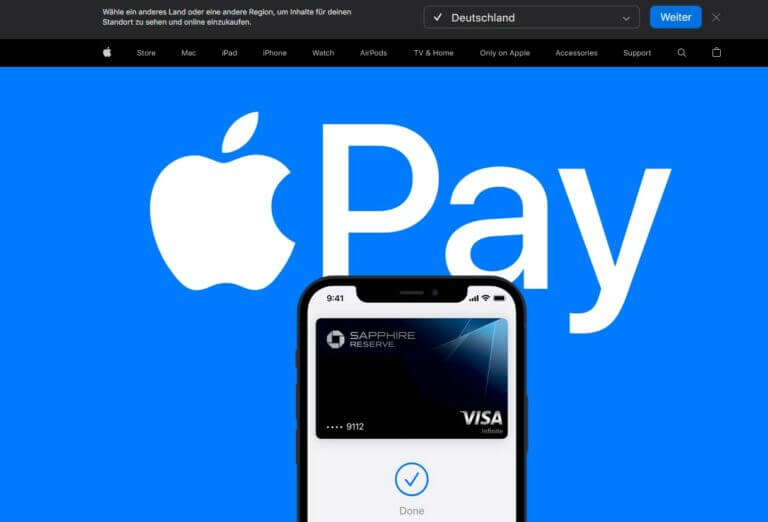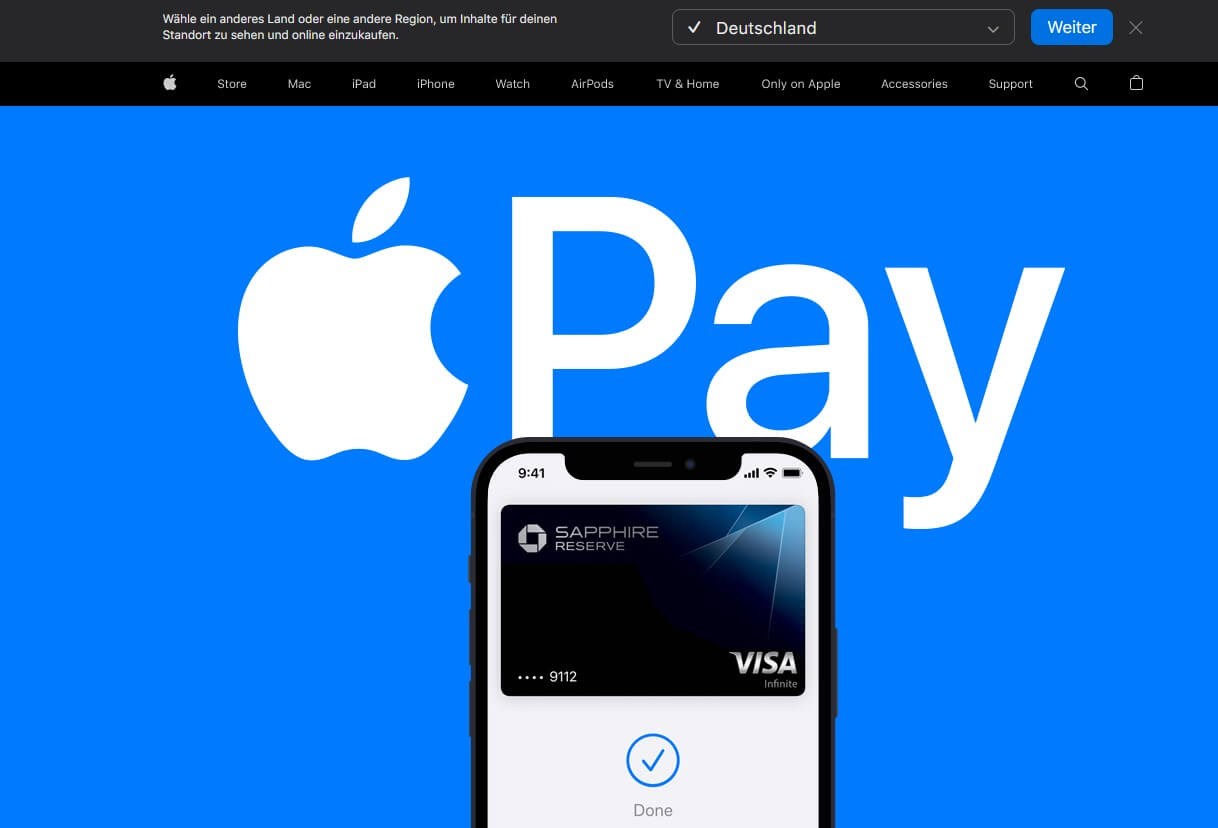 If you want to deposit cash and place bets using Apple Pay in Canada, Bet365 is the best option for you. Why? First, it actually accepts Apple Pay, which is not yet accepted by a lot of other leading sports betting websites in Canada.
But beyond that, Bet365 is one of the most widely-used sports betting websites in the world. It's based in the UK and has a license issued by the Maltese Gaming Authority, and also has licensed in a few other countries, including in the United States in New Jersey. With more than 45 million total users, it's one of the safest and most well-regarded gambling websites in Canada – and the world.
In addition, Bet365 has very helpful customer service and supports an enormous variety of both deposit and withdrawal options. It also offers up to $200 in bet credits for new users, as well as a rotating selection of other promotions. For all of these reasons, it's the top choice for Canadians who want to deposit cash using Apple Pay.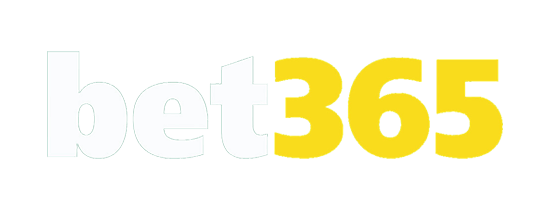 More than 20 million users worldwide
Excellent interface on desktop & mobile
Highly competitive odds for all events
---
Apple Pay in betting
Apple Pay can be used as an alternative to simply using your credit or debit card when placing a bet online. It has no fees (though your bank may impose fees in some cases) and offers instant deposits. It acts as a "middleman" or third party that ensures your credit card details aren't shared with the gambling site – which helps protect your personal information. Let's take a deeper look at Apple Pay and how it works now.
---
Advantages by using Apple Pay in betting
Wondering why you should bother using Apple Pay to deposit funds and place bets? Here are a few good reasons.
Immediate deposits – Apple Pay deposits are instant, just like a credit card or debit card deposit, so you can place bets right away.
Secure payment – Apple Pay uses advanced cryptography and encryption to secure your transaction and protect your card information.
Easy to set up – Setting up Apple Pay on any Apple Device takes only a few minutes. If you already have an iCloud account, you won't even need to create a new login.
Works with almost all Canadian cards – Most major Canadian banks and credit card providers support Apple Pay. If you're not sure about your bank's support for Apple Pay, you can contact their customer service department for more information.
---
How to deposit and withdraw with Apple Pay
Curious about the process for depositing and withdrawing cash on Apple Pay? Here's what you need to know.
How to deposit with Apple Pay
You can deposit cash with Apple Pay in the same way that you would make any other purchase. Head to the cashier/payment section of your preferred sportsbook, select Apple Pay as your payment method and choose your deposit amount, and follow the instructions to sign in and verify your identity on your Apple device. Once you're done, your cash will be deposited instantly.
How to withdraw with Apple Pay
Unfortunately, Apple Pay is a "one-way" system. It can be used to deposit funds, but it can't be used to withdraw funds. You'll have to use another supported method of withdrawal with your preferred sportsbook, such as an ACH transfer, Interac e-Transfer, Skrill, or PayPal.
---
How secure is it to use Apple Pay in betting?
Apple Pay is very secure. The service uses advanced encryption to protect your payment method when checking out both online and in-person. Your personal information is encrypted and is never shared with the other party, thanks to advanced EMV Payment Tokenisation Specification Technology from Apple.
---
What Is Apple Pay?
Apple Pay is a virtual payment service from Apple, which lets you pay securely in person or online using any Apple device. Here are a few fast facts about this payment method.
Apple Pay first launched in 2014 in the United States and came to Canada by late 2016
Apple Pay is currently available in 59 countries
About two-thirds of merchants globally accept Apple Pay
440 million people used Apple Pay by the end of 2019
Globally, Apple Pay accounts for about 5% of all credit card transactions
How does Apple Pay work?
Apple Pay is a virtual "wallet" that lets you pay using your credit or debit cards without sharing your payment details directly with a Point Of Sale system, or when making a purchase online.
The way it works is simple. You simply create an Apple Pay account, then you add one or more credit cards or bank cards. When you want to make a purchase, you can use your phone or the Safari web browser to pay.
When you pay, you'll confirm your identity using your iCloud passcode, Face ID, or Touch ID, depending on the device you're using. Then, your purchase will be completed by Apple without sharing your card information.
---
Apple Pay in Canada
Apple Pay first began operating in Canada in 2016 with a few select banks and credit card issuers. Since then, however, it has expanded quite a bit and is now supported by the vast majority of banks and card issuers in the country. This includes Scotiabank, BMO, TD, RBC, and 50+ other providers. It's also compatible with American Express, as well as most MasterCard and Visa-branded credit cards in Canada.
---
How to open an Apple Pay account
Want to set up an Apple Pay account? You can click here to see the full steps required by Apple for each type of device. Note that when setting up a device with Apple Pay, you must do the following things:
Use a supported Apple device
To use Apple Pay, you need an eligible device such as a Macbook Pro/Air with TouchID, an iPhone, an iPad, or an Apple Watch with the latest version of its operating system.
Verify your bank information
Your bank or card issuer will typically require you to take additional steps to confirm that you have added your card to Apple Pay. Make sure that you pay attention and take the required steps to verify your account, or you will not be able to use Apple Pay.
---
Fees for Apple Pay
Depositing money with Apple Pay at a betting website or sportsbook will not usually incur any additional fees or charges. Note, however, that if you use a credit card to deposit cash, your bank may treat this as a "cash advance" – and impose additional interest and fees. The best way to avoid this is to use Apple Pay with a bank debit card, rather than a credit card.
---
Alternatives to Apple Pay in Canada
Looking for another way to fund your online gambling accounts in Canada? Here are a few top alternatives to Apple Pay.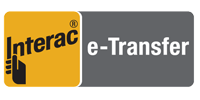 Interac e-Transfer 
– Interac e-Transfers are supported by almost all Canadian banks, and are just as secure as Apple Pay, since your personal details are not shared with any betting website when you deposit cash.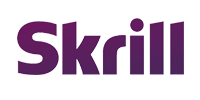 Skrill – Skrill lets you deposit cash using credit cards, debit cards, and bank transfers, and allows for both deposits and withdrawals on sports betting sites, so it's a good alternative to Apple Pay.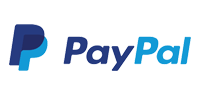 PayPal – PayPal has been operating for decades, and is one of the most well-known "eWallet" services in Canada and the rest of the world. It is very safe and secure, supports a lot of deposit methods, and provides fast, easy withdrawals.
---
FAQs about Apple Pay & Betting
Got questions about Apple Pay and betting on sports in Canada? Here are answers to some of the most frequently asked questions about sports betting and Apple Pay.
Is it safe to use Apple Pay for sports betting?
In fact, it's safer than simply using your credit or debit card directly on a sports betting website, because Apple won't share your card details with the sports website. This protects your identity and personal information.
Which deposit/withdrawal methods can I use when using Apple Pay?
Apple Pay only supports deposits at this time. You can use any supported credit or debit card with Apple Pay.

Do I have to verify anything when using Apple Pay?
You'll have to verify that you requested to use your bank card. However, the Apple Pay service itself has no verification requirements.
Will there be any fees added when I use Apple Pay?
The fees you'll pay depend on how you choose to deposit funds. Debit cards will not incur any charges when used with Apple Pay. But some credit cards treat deposits to gambling sites as cash advances, which means you'll face additional fees and interest charges. These fees vary depending on your card issuer.
What do I do if my payment is declined?
Contact your card issuer for more details. If the issue is not with your bank, we recommend contacting Apple customer support for more information about why your payment was declined.
How long will it take before my deposit is received by the betting site?
Deposits through Apple Pay are typically processed immediately, so you can start placing bets right away.
How long will it take before my withdrawal is received from the betting site?
Apple Pay does not support withdrawals, so you will need to use another payment method to withdraw cash.
---
Tips for using Apple Pay in betting
Here are a few things you should keep in mind when considering Apple Pay as your preferred deposit method at an online sports betting website.
Take your time when selecting the best payment provider for you – Each payment provider has its pros and cons. Apple Pay is great for deposits, but it can't be used for withdrawals, so you'll need to use another payment method. Consider all of your options when depositing cash at any online casino. 
Be aware of any fees which may occur – Apple Pay doesn't charge fees, but you may be charged interest and a cash advance fee if you use a credit card. You can avoid these fees by using a debit card with Apple Pay, however.
Make sure that your favorite betting site accepts Apple Pay – Before you try to use Apple Pay at an online casino or sportsbook, you should make sure your favourite sports betting website accepts it. If they don't, you can either choose a different website, or simply use a different payment method to deposit cash. 
Know the transaction limits of Apple Pay – Apple Pay only functions as a middleman, so the service doesn't have any specific transaction limits. However, your credit or debit card likely has a certain transaction limit – and exceeding it could block your transaction. Make sure to contact your bank to inquire about your transaction limits.
---
Apple Pay Is A Great Way To Make Betting Deposits At Sportsbooks
Overall, Apple Pay is a great way to use your credit or debit card for a cash deposit at online sports betting sites in Canada. By acting as a "middleman" between your bank and the sportsbook, it helps protect your safety and security.
It's also a decent alternative to other methods of payment like Paypal, Skrill, and Instadebit. However, you won't be able to withdraw funds using your Apple Pay Wallet, so you will have to use an alternative payment method to get your winnings from an online casino and sportsbook like Bet365.
The bottom line is that if you're already an Apple Pay user, it's definitely worth using it to deposit funds and place bets on sportsbooks. But if you don't have an iPhone or any Apple products, it's not going to be the best choice, and we'd recommend an alternative service like Skrill or an Interac e-Transfer.