Also, matches take place over the best-of-five sets, with the sets being played in the 'Fast4' format of first to four games. This makes tie-breaks more likely and with that, the matches are tougher to predict. There is also no ad scoring, so it's a decisive point at deuce.
19+. Gambling can be addictive, please play responsibly: 1st Deposit - Free Bet up to C$ 200 • New customers only • Min deposit C$ 10 • Wagering at odds of 1.3+ to unlock free bet • Opt-in required • Terms apply
19+. Gambling can be addictive, please play responsibly: This offer is only available to new players who made their first deposit and selected this offer as a welcome bonus. All players must be 18+ years old and of legal age to gamble. General 20bet Terms and Conditions apply unless otherwise stated.
19+. Gambling can be addictive, please play responsibly: General Selectbet Terms and Conditions apply unless otherwise stated.
This tournament will be the first with only one-minute rest after every other game when the coaches will be allowed to advise their players.
Three of the top five players no older than 21 chose not to participate in the tournament. Last year's winner Jannik Sinner and Felix Auger-Aliassime already made a name for themselves on the tour and decided to rest just like Jenson Brooksby.
Still, the tournament will gather the best young talent in the game which guarantees quality tennis.
The players are divided into two groups.
Carlos Alcaraz, Brandon Nakashima, Juan Manuel Cerundolo and Holger Vitus Nodskov Rune will compete in Group A, while in Group B Sebastian Korda, Lorenzo Musetti, Sebastian Baez and Hugo Gaston will go against each other.
Favorites to win and odds
Carlos Alcaraz
Odds to win: 155
Country: Spain
Age: 18
Current/highest ranking: 32/32
2021 record: 43-19
The youngest player in the competition is considered the favorite to win. Alcaraz, being only 18-years-old, has already made a name for himself on the tour as one of the most promising talents with many predicting him to be a future No. 1. He won the challenger in Oeiras in May which was just the beginning of his instant growth. Following that title, Alcaraz went through the qualifiers at the French Open reaching the third round where he lost to Jan-Lennard Struff. In August, Alcaraz won his first ATP title on clay in Umag beating Richard Gasquet in the finals. Still, his biggest win of the season came in the third round of the US Open where he stunned Stefanos Tsitsipas in the fifth set tie-break. Matteo Berrettini and Jannik Sinner are also players who were stunned by the 18-year-old this season.
Sebastian Korda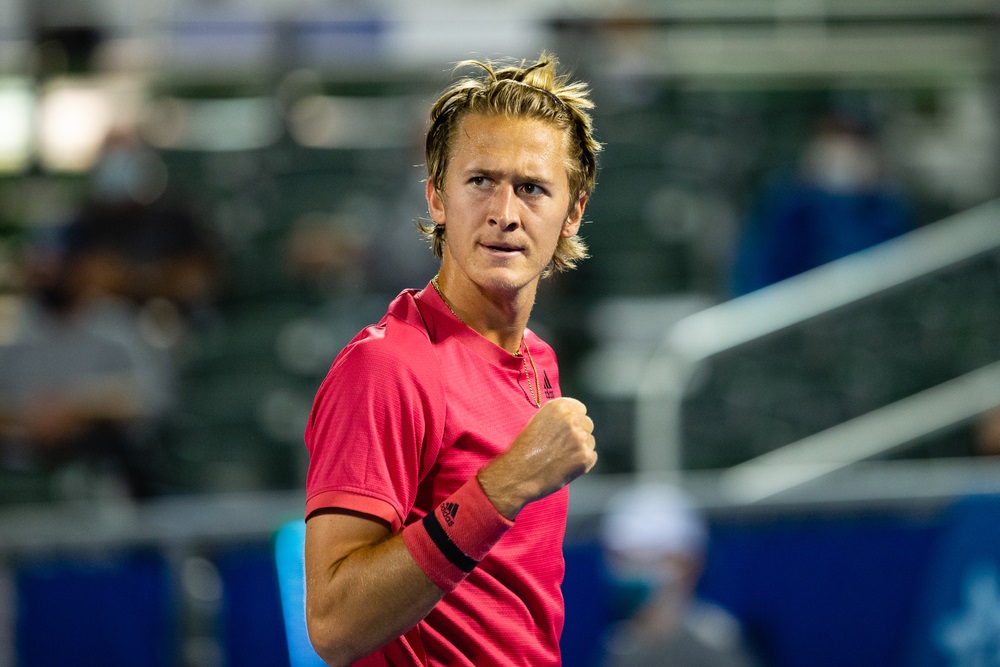 Odds: 275
Country: United States
Age: 21
Current/highest ranking: 39/38
2021 record: 32-19 
The American has shown versatility in his game being able to adapt and play well on every surface. He started well on hard in Delray Beach and Miami which was followed by his first ATP title on clay in Parma where he didn't drop a single set. Korda then made it to Round 16 at Wimbledon where he was stopped by Karen Khachanov with 10-8 in the decisive set. He is going to Milan in great form after defeating Aslan Karatsev and Marin Cilic at the Paris Masters before failing to world No. 2 Daniil Medvedev in three sets.
Brandon Nakashima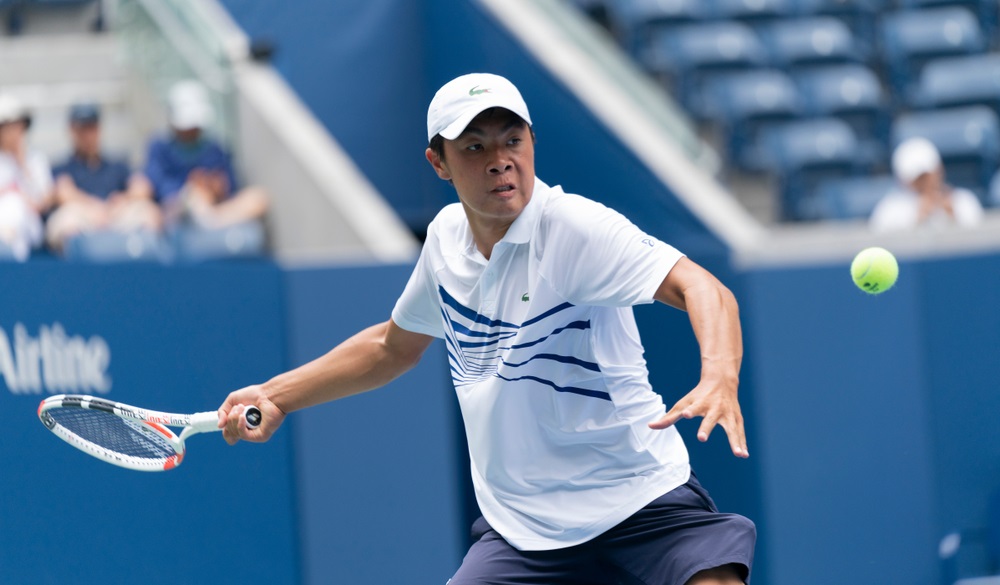 Odds: 400
Country: United States
Age: 20
Current/highest ranking: 63/63
2021 record: 43-23
Nakashima is playing his best tennis on hard surface especially indoors as he has a 18-3 record this season. He is coming to Milan after a dominant win in Brest where he won all five matches in straight sets. During the summer, Nakashima reached back-to-back ATP finals in his homeland. First, he lost to Cameron Norrie in Los Cabos and to John Isner in Atlanta in the following week. He has an impressive 87% first serve this year which may take him deep in the tournament.
Lorenzo Musetti
Odds: 600
Country: Italy
Age: 19
Current/highest ranking: 58/57
2021 record: 35-29
Musetii will have the home crowd behind him hoping to repeat the success of his fellow Italian Jannik Sinner who won the last edition of the tournament. Musetti's season has been all ups and downs and his form is questionable for the upcoming tournament. The tennis world heard of him at the French Open where he had a 2-0 lead against world No. 1 Novak Djokovic in Round 16 but failed to make a sensation. Musetti also made it to the semifinals in Acapulco and Lyon, both times losing to Stefanos Tsitsipas.
Holger Vitus Nodskov Rune
Odds: 800
Country: Denmark
Age: 18
Current/highest ranking: 109/109
2021 record: 69-25
The 18-year-old Rune has started the season playing in the futures tournaments and less than a year later, he is on the biggest stage for young talent. He has played almost 100 matches this year which makes his success deserved. The wider tennis fandom heard of him when he won a set against Novak Djokovic in the first round of the US Open. Rune is coming to Milan after he won the challenger in Bergamo on a similar surface. He was also great in Metz in September where he lost in the quarterfinals to Pablo Carreno Busta in three sets. 
Hugo Gaston
Odds: 900
Country: France
Age: 21
Current/highest ranking: 67/67
2021 record: 44-27
Gaston was the last player to qualify for the 'next generation' tournament after he made it to the quarterfinals at the Paris Masters last week. He defeated Alcaraz and Musetti on his way but couldn't go past Daniil Medvedev despite having three set points. The majority of his matches this season Gaston played on clay court but doesn't make him any less dangerous on hard. He has made it to five finals this year but failed to win any of them.
Sebastian Baez
Odds: 2500
Country: Argentina
Age: 20
Current/highest ranking: 111/111
2021 record: 49-14
Baez has played 58 of his 63 matches this year on clay so he will have a tough time adapting to Milan's conditions. He is 2-1 on hard as he reached the third qualifying round at the US Open losing to Christopher Eubanks. Still, the Argentinian shouldn't be underestimated as he has won five challenger tournaments this year.
Juan Manuel Cerundolo
Odds: 4000
Country: Argentina
Age: 19
Current/highest ranking: 91/85
2021 record: 51-24
Cerundolo's only match off the clay court this year has been the first qualifying round loss at Wimbledon and he has played a total of 5 matches on a hard surface and only one indoors in his entire career. He will probably fail to win a set in Milan but he won't lack a competitive spirit which has brought him four titles this year, most notably at the ATP Cordoba in February.
Next Gen ATP Prediction
With all this talent, shorter sets and many tie-breaks it is pretty tough to predict anything that will happen in Milan this week but that's what makes the sports betting fun.
We would suggest putting your money on Hugo Gaston to win. The Frenchman showed great potential in Paris last week taking the best out of Daniil Medvedev in the quarterfinals. The hard surface is not his favorite but the same can be said about all participants other than Brandon Nakashima.
What makes Gaston a value bet at 900 odds is that he has the best receiving stats among all participants, having won 30.7% of his return games on a hard surface. Another reason to pick him is the fact that he has the best tie-break record this season of all of his rivals having won 14 of 21.