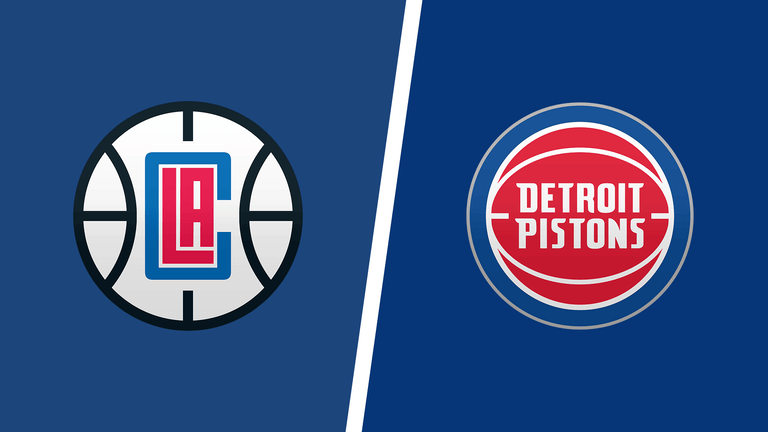 Detroit Pistons vs LA Clippers betting tips and predictions for Friday's NBA game. Detroit aims to end a 5-game losing streak as they travel to Los Angeles to take on the Clippers at Staples Center. Read on for all our free predictions and betting tips.
Detroit Pistons

This will be the 2nd game of a 5-game road trip for the Detroit Pistons which they have started with a 114-93 loss at Milwaukee on Wednesday. That game was never really a contest as the Pistons simply didn't have enough to match the Bucks onslaught. Jerami Grant finished with just 13 points, while rookie Cade Cunningham contributed only with 9 points on 3-for-10 shooting from the field. This was Detroit's 14th loss in their last 16 road games, overall they've won just once in their last 5 outings. With a brutal schedule coming up on this road trip, they could very well cement their place at the bottom of the Eastern Conference. Against the Clippers they've got just 3 wins in the last 19 meetings, they've also lost 8 of 10 road games against LA.
LA Clippers
The Clippers are coming off 2 straight games in which they faced the Dallas Mavericks at home. They were able to win just one of those games and are now 10-8 on the season occupying 5th place in the Western Conference standings. Wednesday's game was a thriller, Paul George was able to force Overtime with a buzzer-beating three-pointer from the corner, however the Mavericks were able to prevail as LA scored just 1 point in the extra period. The next 4 games for the Clippers are all at home and it's a pretty easy schedule as in 3 of those 4 games they have Detroit, New Orleans and Sacramento. One key part that is missing right now, aside from Kawhi Leonard, is Nicolas Batum who is out indefinitely with an illness. The Clippers are 2-4 ATS in their last 6 games, however they have won 9 of their last 13 games overall.
In the last 10 games between them, the Clippers are outscoring the Pistons by just 5.6 points per game, so asking them to win by 12 tonight could be a bit too much. Especially with this being an early tip-off after both teams had Thanksgiving festivities. Yes, Detroit is on a 4-game losing streak, but 3 of those 4 games were decided by 8, 5 and 3 points. I'm taking the Pistons to cover here.
LA Clippers – Detroit Pistons Predictions
LA Clippers – Detroit Pistons Odds
Detroit +11.5 Point Spread is available at -110 odds on bet365
Detroit is coming off 2 games in a row in which they've failed to crack the 100-point mark and tonight they are going up against the 2nd best defensive rated defense. The Clippers have played well on that side of the ball all season, despite not having their best defender Kawhi Leonard. They are holding teams to just 101.1 points per game this season at Staples Center and in their last 3 games overall that number is down to 99 per game. The total has gone under in 5 of the last 7 meetings between these two sides. For LA their last 8 of 10 games vs Eastern Conference teams the total has also gone under. This will be a battle of the 11th and 19th fastest paced teams in the NBA, I think we are in for a lower scoring affair. Back the under in this one.
Under 206.5 Total Points is available at -110 odds on bet365